.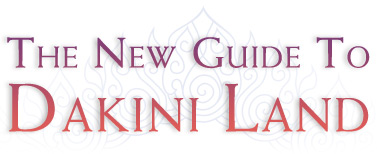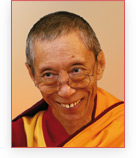 Tharpa Publications is delighted to announce new publications from Venerable Geshe Kelsang Gyatso related to the Highest Yoga Tantra practice of Vajrayogini.

ABOUT THIS BOOK
The New Guide to Dakini Land is a revised edition of Venerable Geshe Kelsang's original book Guide to Dakini Land.
This comprehensive guide provides a detailed and practical explanation of the two stages of Vajrayogini practice - generation stage and completion stage - and shows how we can integrate these practices into our daily life, thereby transforming every moment of our life into the path to enlightenment. It is a unique guide to becoming a Tantric enlightened being in the modern world.
Add the ebook and print edition to your cart and
RECEIVE 60% OFF YOUR E-BOOK AT CHECKOUT
Offer only valid if both items are included in the same checkout.
Discount valid on one ebook per order. Multiple orders allowed.
AVAILABLE FORMATS
| | | |
| --- | --- | --- |
| Ebook - ePub format (iPad, iPhone, Nook etc): | $16.99 | |
| Ebook - Mobi format (Kindle): | $16.99 | |
| Paperback: | $25.95 | |
| Hardback: | $30.95 | |
RELATED TITLES
The Blissful Path
is a new, condensed self-generation practice of Vajrayogini. It is designed for those who wish to train in the self-generation of Vajrayogini as a daily practice but have insufficient time to practice either the extensive or middling sadhana.
The Uncommon Yoga of Inconceivability
The Uncommon Yoga of Inconceivability is a special method unique to the practice of Vajrayogini whereby we can attain Dakini Land within this life without abandoning our present body.
SPECIAL OPPORTUNITY
Receive teachings on the practice of Vajrayogini
Venerable Geshe Kelsang will be giving the blessing transmission of and The Uncommon Yoga of Inconceivability at the NKT-IKBU International Fall Festival in Portugal in October 2013.
For more information visit: profoundillumination.org
There will also be an opportunity to receive empowerments and commentary to the Highest Yoga Tantra practices of Heruka Body Mandala and Vajrayogini from
Gen-la Kelsang Kunsang, the Deputy Spiritual Director of NKT-IKBU, at the International Summer Festival at Manjushri KMC in July 2013.
For more information visit: kadampafestivals.org
Who is Vajrayogini?
Vajrayogini is a female enlightened Deity of Highest Yoga Tantra who is a manifestation of all the Buddhas' wisdom. By engaging in the Tantric practice of Vajrayogini under the guidance of a qualified Spiritual Guide, sincere practitioners can completely purify their body, speech and mind and attain a state of full enlightenment - the ultimate goal of human life. The practice of Vajrayogini comes from Buddha himself and has been preserved over the centuries by an unbroken lineage of realized practitioners.
Today, we are able to receive this precious lineage from the contemporary Buddhist Master Venerable Geshe Kelsang Gyatso, who presents this profound practice in a way that can be easily understood and practiced in the modern world.