.
Substantial revisions by Venerable Geshe Kelsang Gyatso




Special presentation of the training in ultimate bodhichitta




Includes a short and beautiful explanation of how to meditate on each of the eight verses
About this Book
Eight Steps to Happiness - The Buddhist Way of Loving Kindness is a commentary to one of Buddhism's best-loved teachings, Eight Verses of Training the Mind, composed by the great Buddhist Master, Bodhisattva Langri Tangpa. These eight short verses contain in essence the entire Buddhist spiritual path, with a particular focus on developing loving-kindness.
With this revised edition of this inspiring book Geshe Kelsang Gyatso unlocks the deep insight and beauty of this poem. By showing how we can improve our relationships in daily life and transform all life's difficulties into valuable spiritual insights, he reveals practical ways in which we can use this timeless wisdom to find real meaning and lasting happiness in our busy modern lives.
Available formats:
eBook - ePub (iPad, Nook)


eBook - Mobi (Kindle)


MP3 Audiobook -


CD Audiobook -


Paperback -


Hardback -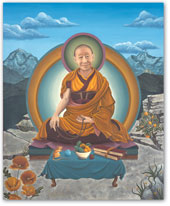 Bodhisattva Langri Tangpa
Author of Eight Verses of
Training the Mind
The new edition of Eight Steps to Happiness incorporates revisions made by Geshe Kelsang. Almost all chapters have been revised, and in particular you will see significant changes within the chapters on Taking and Giving and on Training in Ultimate Bodhichitta. In addition, Geshe Kelsang has revised the translation of the root text of Eight Verses of Training the Mind, and there is now a beautiful, brief explanation of how to meditate on these verses.
If you already have the previous edition this is a wonderful opportunity to renew your love of this book. If you have yet to own a copy you will enjoy discovering practical methods for improving your loving-kindness and your relationships with others.
From the Book:
It is said that there exists a magic crystal that has the power to purify any liquid in which it is placed. Those who cherish all living beings are like this crystal – by their very presence they remove negativity from the world and give back love and kindness."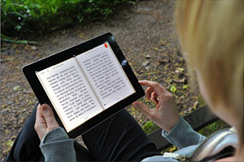 Download your Dharma
and take it with you
Eight Steps to Happiness is now available as a downloadable MP3 Audiobook.
Reviews of Eight Steps to Happiness
...induces calmness and compassion into one's being.
Geshe Kelsang Gyatso is a highly respected meditation master and scholar of the Mahayana Buddhist tradition.
Geshe Kelsang Gyatso has proven to be a popular and accessible authority.