Buddhism for Children

Special Announcement
Tharpa is pleased to announce the release of the Buddhism for Children series, a new set of books written by Geshe Kelsang Gyatso. Now available

Order all 4 books:
£23.80   £19.95
About the Series
The Buddhism for Children series invites children to make a journey of self-discovery and self-improvement to help them realize their full potential.
The purpose is not to convert them to Buddhism but simply to show how everyone, Buddhist or non-Buddhist, can learn something from the teachings of Buddha.
These books address the reader in a mature fashion, using the life and teachings of Buddha as a basis for exploring many of the issues and concerns that confront children today.
Although these books are written principally for children, anyone who wants a clear explanation of the essence of Buddhism and how it applies to modern living will benefit greatly from reading them.
---
The Story of Angulimala - Buddhism for Children Level 1
A beautifully illustrated story of hope and personal transformation from the life of Buddha that addresses many of the issues confronting both children and adults today.
Themes include:
How to stop being angry and harmful
How to be calm and peaceful
How to be loving and kind towards each other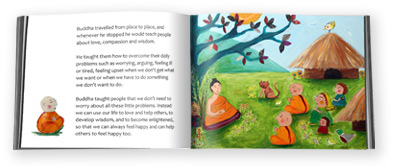 Order all 4 books: £23.80 £19.95

---
The Story of Buddha - Buddhism for Children Level 2
The story of Buddha's life is timeless and is as relevant today as it was 2,500 years ago when Buddha was alive.
It shows how we can learn to maintain a peaceful mind all the time so that we can be happy all the time, and in this way fulfil our own wishes as well as the wishes of all our friends.
Few can fail to be inspired by this powerful story.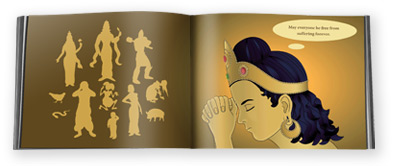 Order all 4 books: £23.80 £19.95

---
What is Buddhism? - Buddhism for Children Level 3
This book introduces the mind, as distinct from the brain, and invites the reader to explore and develop their mind using scientific methods taught by Buddha.
It shows how the problems we encounter in life do not exist outside of ourself, but are part of our mind that experiences unpleasant feelings.
Learning to control our mind, especially our desire, is the only way to bring all our problems to an end.
Order all 4 books: £23.80 £19.95

---
What is Meditation? - Buddhism for Children Level 4
We know from our own experience that when our mind is peaceful we are happy all the time, even if our external conditions are poor, but when our mind is not peaceful we are not happy, even if our external conditions are excellent.
The method to make our mind peaceful is training in meditation.
This book explains a simple breathing meditation suitable for all ages and briefly introduces more advanced forms of meditation.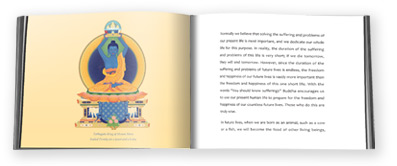 Order all 4 books: £23.80 £19.95

About the Author

Venerable Geshe Kelsang Gyatso is a world-renowned Buddhist meditation Master who has pioneered the introduction of modern Buddhism into contemporary society.
He is the author of the best-selling book Modern Buddhism and the founder of the International Kadampa Schools Project.
Introduction to the series from Geshe Kelsang Gyatso
We should know that although we want to be happy all the time we do not know how to do this, and we are always destroying our own happiness by developing anger, negative views and negative intentions.
We are always trying to escape from problems, even in our dreams, but we do not know how to free ourself from suffering and problems. Because we do not understand the real nature of things, we are always creating our own suffering and problems by developing and maintaining anger, uncontrolled desire, jealousy and ignorance .
We need to practise Buddha's teachings because there is no other real method to solve our problems of anger, uncontrolled desire, jealousy and ignorance. I am encouraging everyone, including children, to learn some important practical teachings of Buddha so that people can experience happiness all the time and can solve their daily human problems.
For this purpose I have prepared Buddhism for Children levels 1 – 4. The teachings of Buddha presented in these booklets are designed for children, but anyone who studies and practises these teachings will find a meaningful life.
Geshe Kelsang Gyatso
November 2012
What people are saying...

Amazingly clear, concise and easy to understand. Teachers in many schools will be very excited to see Buddhist resources they can understand and easily explain to children.
Miss Ratna, Primary School Head

I really like the tone of the books, the fact that they are not patronising and deal with some difficult topics head on.
Caroline, Parent

Absolutely amazing! All of Buddha's teachings condensed into a children's book, yet just as profound and just as powerful!
Sam, Parent

What is Buddhism? is a really good book for kids to read. I have learned that people can really trust Buddha and that he is part of a really good religion that is peaceful. I think the pictures are really, really good.
Jake, aged 7