Practical Advice for the Meditation Break
Buddha's teachings are scientific methods for improving our human nature and qualities through developing the capacity of our mind.
Gain practical experience of Buddhism and meditation
Deepen your experience of Tharpa books by receiving support and inspiration from qualified teachers and practitioners. Tharpa Publications is part of the wider spiritual community of the New Kadampa Tradition. This tradition has a growing number of centres in over 40 countries around the world. Each centre offers special study programmes in modern Buddhism and meditation, taught by qualified Teachers. These programmes are based on the study of books by Venerable Geshe Kelsang Gyatso Rinpoche and are designed to fit comfortably with a modern way of life.
Everyone is welcome. There are different levels of study according to different people's interests, wishes and lifestyle.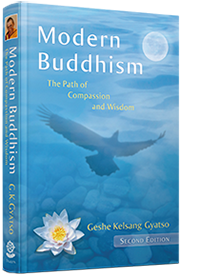 In recent years our knowledge of modern technology has increased considerably, and as a result we have witnessed remarkable material progress, but there has not been a corresponding increase in human happiness. There is no less suffering in the world today, and there are no fewer problems. Indeed, it might be said that there are now more problems and greater dangers than ever before. This shows that the cause of happiness and the solution to our problems do not lie in knowledge of material things. Happiness and suffering are states of mind and so their main causes are not to be found outside the mind. If we want to be truly happy and free from suffering, we must learn how to control our mind.
Modern Buddhism
One of the books studied on the General Programme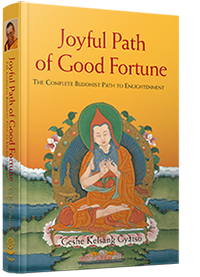 To know subtle elements precisely - their natures and their functions - we need to study the inner science of Buddhadharma. If we master the subjects of inner science we shall attain special realizations which are the inner fruits of our study. When we have a complete understanding of inner science we shall attain enlightenment. All the realizations we gain as a result of Dharma practice are inner powers. Inner science brings only peace and never any danger. By comparison, external science, for all its great benefits, brings many dangers and conflicts. In fact at present its dangers greatly outweigh its benefits because our technological advancement has brought us nuclear weapons, and these have a destructive power many times greater than the creative power of all our other inventions. Now external science is endangering the welfare of the whole world. Therefore, of the two, it is more important to learn inner science.
Joyful Path of Good Fortune
One of the books studied on the Foundation Programme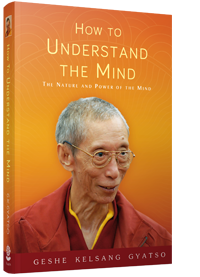 Some of the fifty-one mental factors are quite similar, and so we need to study them carefully and discuss them with others until we have a clear understanding of each one. Although we develop these mental factors within our own mind, we still need to try to identify them precisely so that we know which ones to abandon and which ones to cultivate[...] Abandoning non-virtuous mental factors and cultivating virtuous ones is the essence of Dharma practice. Deluded mental factors are the cause of all negative actions and the source of all suffering and danger. By identifying them and eradicating them we solve all our problems.
How to Understand the Mind
One of the books studied on the Teacher Training Programme